Details of new agreement now due next month
A new gas regulatory agreement is "long, long overdue" says one MHK, but who is to blame for the delay?
Dollin Mercer has this report:
Tynwald agreed to terminate the 2015 regulatory agreement with Manx Gas at this month's sitting, following a motion from the former policy and reform minister, Chris Thomas.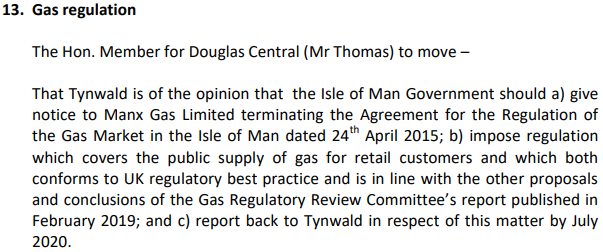 But following a successful amendment from his successor, Ray Harmer, we won't know more about a new deal until after next month's sitting.

Chris Thomas was the man in charge of the negotiations, before he was sacked from the Council of Ministers.
Onchan MHK Rob Callister is one member who has been critical of the fact there is still no resolution to the talks.
Dollin Mercer asked him if he now felt reassured there was an end in sight:
Dollin then asked Chris Thomas to outline what his aims were in tabling the motion:
You can hear from the Managing Director of Manx Gas on the issue here.
Source: Manx Radio